Siamese cats are well-known for their outgoing and extroverted personalities. They are active and chatty and bond well with their humans.
Because of these personality traits, Siamese cats go really well with owners who spend a lot of time with them and give them loads of attention.
If you're looking for a low-maintenance cat, a Siamese is probably not the right choice for you.
Are Flame Points good pets?
Siamese cats are divided into several types, dictated by their color and breed. Crossing a Siamese cat with a red or orange Tabby, American shorthair results in a beautiful and rare specimen known as a Flame Point or Red Point Siamese. 
Because of their appearance, Flame Point Siamese are popular cats. Because they're so rare, you might wonder about their personality and whether their behavior fits you and your family.
Based on Red Point Siamese owners' feedback, these rare specimens have the best personality traits of all Siamese cats. They're known to be sweet, funny, loving, and very adaptable.
Because of their need for attention and exercise, Flame Points are not for everyone. If you enjoy spending lots of time with you cat though, Flame Points are among the best pets to have.
Here are some of the noticeable areas of Flame Point's behavior and needs to consider before owning one.
How Are Flame Points Bred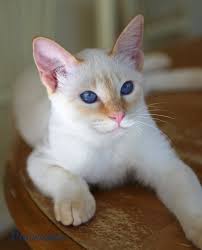 Flame Point Siamese is a cross between a purebred Siamese cat and an American shorthair with red tones. Purebred Siamese is cream or white cats with "points" on their ears, faces, tail, and feet. 
Most well-known are Siamese breeds with grey or (dark) brown points, but there are 32 different variants. However, to get a Flame Point, Lilac, Seal, and Blue point Siamese can be considered. Although their points might appear in other places, breeding with those variants will result in very different looks for each cat.
To create a Flame Point, Siamese are bred with a red or orange tabby cat. In doing this, the points take on an orange color, which gives the breed its name. They typically have cream or white bodies and retain the piercing and beautiful blue eyes that Siamese cats are known for. 
Although very much sought after, Flame Points are relatively rare. That is because many breeders do not consider them purebred Siamese. For that reason, you might come across Flame Point Siamese cats that do not have an official pedigree. That doesn't make them less desirable, of course.
What Is The Personality Of A Flame Point?
A sweet personality is something both Siamese cats and orange Tabby American shorthairs have in common. The reason for this character trait is not well known. Many people argue that they have evolved like this because of the extreme admiration and love they've always received.
For the Red Tabbies, the red-gene could have something to do with it. This was one of the earliest genetic mutations in domesticated cats, so the Tabbies have been around humans for the longest time.
Whatever the reasoning, owners of these two types of cats have often testified that their feline is a sweetheart and a bit of a kook. The unique personality is, therefore, doubled in a Flame Point! 
The Tabby with Siamese crossing retains many of the unique characteristics of the Siamese race. These include being very vocal, very active and have a constant need for attention.
This can be a lot of fun when you enjoy engaging and spending time with your cat, but it can be overwhelming if you're not used to it.
They love to jump and pounce, and you could also find them stuck between couch cushions, caught in blinds, or other precarious situations due to their intense curiosity. 
Since Flame Points are generally male, some sex-specific traits apply to them, mostly from their Siamese side. While the female Siamese tend to be more temperamental, males are much more laid back. This is also true for orange or red tabby American shorthair males. It makes the Flame Point a cat who is up for anything and loves to explore. 
Flame Point owners have often reported weird but entertaining behavior such as pouncing at their owner's feet and the obsessive need for a specific type of petting. They can also be very dominant towards other pets and animals in the house, even non-feline ones. They're good at learning and obeying commands, though.
Flame Points are often a bit clumsy, showing in them bumping into furniture, falling off of ledges. Though, they're very aware of their surroundings and will often loudly meow to get their owner's attention or beg for cuddles.
Siamese and American shorthair cats tend to retain their loving personalities as they get older. So if you get a friendly Flame Point, you can expect many years of love, meows, and goofy shenanigans. 
Do Flame Points Have Special Health Considerations
Because of their heritage, Flame Points retain much of the Siamese health traits and downsides. 
The most common issues seen in Siamese cats are:
Retinal Atrophy which is something that cats with blue eyes are especially prone to
PICA, a compulsive behavior, classified as a mental disease where cats are obsessively licking and eating fabrics and other strange items.
Due to their high activity, they might see bone and joint issues such as arthritis, hip dysplasia, and hyperesthesia.
A Flame Point's dietary needs
Having a high-protein diet is suitable for all cats, especially active ones. The Flame Points should especially get a well-balanced diet that contains plenty of proteins and animal fats. This will help to support their high activity level and keep them healthy. Taking care of their diet will benefit their long-term health.
When they get older, you might see some of the typical cat issues that American shorthairs commonly deal with. For example, urinary problems and dental issues.
As with all pets, regular visits and checkups at the vet are essential to catch potential problems early and keep them in top condition for as long as possible.
Are Flame Point Siamese Cats Rare
Flame Point Siamese are relatively rare. If you're looking to add one to your family, the first option is to check for shelters in your area. Focus specifically on the ones that cater to Siamese cats. You may have to be willing to travel a bit to find them, but shelters list their available animals on their websites so you can know ahead of time.
If you're lucky enough to find a Flame Point, It's not wrong to call ahead and ask the adoption center if it is still available. Since they are so rare, they are often snatched up quickly from shelters. You can also use petfinder.com to find cats in your area and see if you're lucky enough to find a Flame Point. The site allows you to apply filters to narrow down your search. 
Some Siamese cat breeders may also have Flame Point Siamese. Since many Siamese breeders are only breeding show-quality cats, Flame Points won't be their priority as they are not considered purebred. This list includes breeders that may have some non-purebreds like Flame Points.
If you go to a breeder, it's essential to do research first. Ensure they have good online reviews, documentation of exams and vaccinations, a healthy environment, and adequately socialized cats. Not every US state has breeders, so you may have to invest in travel to meet your Flame Point. 
If you're looking for a cat with personality, a Flame Point Siamese is perfect for you. These unique cats have great personal attributes. The breeding of the loving Siamese and the cuddly red or orange tabby American shorthair combines a lot of love into one cat. Ensure that if you get one, you have the time and energy to give them lots of love back!